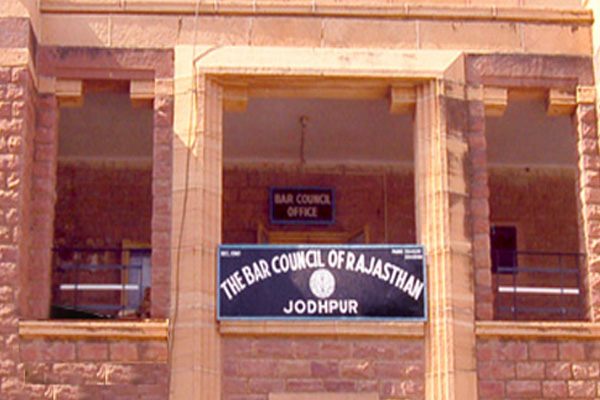 The Bar Council of Rajasthan, Jodhpur is an Autonomous body established and Constituted in the Year 1961 under the provisions of Advocates Act 1961 Which provide for establishment of State Bar Councils in Section 3 thereof with a maximum of 25 elected members. The Advocate General of the State of Rajasthan is Ex-officio member of the Rajasthan Bar Council.
The election to the Rajasthan Bar Council takes place by a complex process wherein the electorate comprises of every single lawyer enrolled in Rajasthan. The counting involves elimination by preferential voting basis and the 25 members securing highest votes get elected to the office for a period of 5 years. Amongst these elected members by internal elections, office of the Chairman and Vice Chairman as also nomination to the Bar Council of India takes place. The office of Rajasthan Bar Council is situated at High Court Premises, Jodhpur.
The Bar Council of Rajasthan, Jodhpur is the apex body of Lawyers that regulates the entry into, discipline and retirement from the profession. The important function of Bar Council of Rajasthan is to admit persons on its Roll as Advocates so as to grant them permission to practice law. In its disciplinary Jurisdiction the Bar Council of Rajasthan entertains and determines cases of professional and other misconduct on complaint or even suo moto and also works to safe guard the interest of the Advocates. The Bar Council of India on the other hand comprises of members elected and nominated by each of the State Bar Council. The web address of Bar Council of india is www.barcouncilofindia.nic.in and e-mail address is bci.india@hub.nic.in. The 10th Bar Council of Rajasthan came to be constituted in the year 2004 and comprises now of 22 elected members and one co-opted member. The Secretary of the Bar Council is a full time employee and has a team of around 19 persons. The Bar Council of Rajasthan, Jodhpur is also the trustee of the fund established and maintained under the provision of Rajasthan Advocates Welfare Fund Act, 1987 wherein not only retirement benefits to its member Advocates are conferred by the Bar Council but even financial assistance in case of death or bodily injury is provided to its members by the Rajasthan Bar Council.